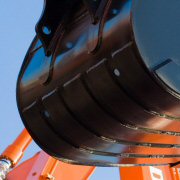 1. Leadership Competency & Commitment
Our leadership team, headed by our founder, Calvin Brandford, brings to the table over 25 years of business management experience in the trucking and excavating industry. Since our inception, we have maintained an annual average growth rate of over 20% and a customer retention rating of over 95%. Our excellence is achieved through our commitment to prompt, reliable, and quality service at competitive prices coupled with integrity to our employees and the community.
2 . Unequaled Customer Service, Experience, & Quality
Every member of our staff is trained to deliver quality service "the CHB Excavating, Inc. Way". This means prompt service, using the right equipment and being mindful of our customers' interests.
3. Abiding by the Industry Regulations and Respecting Governing Laws
We abide by all industry guidelines and regulations stipulated by the local authorities as well as the US Federal Department of Labor;
our crews are all legally authorized to work in the US and have proper photo identification and uniforms to ensure a high level of visibility when working at customers' premises
all our crews are W-2 employees; no one is paid on a 1099
4. Equipment & Operating Procedures
We train our employees at our headquarters using simulated, real-life situations and we use state of the art techniques and equipment, resulting in a faster, more effective process.
5. Competitive Pricing
Our services come at very competitive and sustainable pricing. Because we use state of the art equipment and trained and motivated staff, we are able to get the job done more efficiently and thus pass the saving onto our customers.
6. Fully Insured
Our employees are fully insured for Errors, Omissions, General Liability, Employee Dishonesty, Employment Practices, and Workman's Compensation. For you review, we have attached a copy of our Certificate of Insurance.